13th annual Afro Roots World Music Festival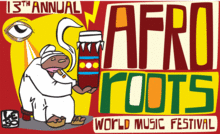 7th Circuit Studios
Miami, FL
The 13th Annual Afro Roots World Music festival focuses on celebrating the evolution of African Culture in our community. Noted by many to be Miami's longest running World Music festival, the event has featured artists from various African countries such as Senegal, Ivory Coast, Guinea, Mali, and the Republic of Congo, as well as artists from the Caribbean and the Americas. The festival also features a variety of satellite events such as, the Festival of the Drum, the kick off celebration, and a variety of panels and workshops.This global connection through music has helped the festival evolve into one of Miami's most culturally diverse events.
Saturday, April 16th
13th annual Afro Roots World Music Festival
at 7th Circuit Studios
228 NE 59 St.
Miami, Fl.33137
doors open at 5 pm
This years line up includes:
Boukman Eksperyans from Haiti
Locos por Juana w/ special guest Rocky Dawuni,
Spam All Stars w/ special guest papa Malick Faye,
Jahfe
Outdoor Patio percussion jam!
Bring your drum and join in!
DJ Moses
Emcee Lanceo of Kulcha Shok Muzik
Plus arts and crafts vendors, food, drinks, and more!
This is an all-ages event on Saturday, April 16, 2011
Showtimes:
7:00pm-8:00pm Spam Allstars w/ Papa Malick Faye
8:30pm-9:30pm Jahfe
10:00pm-11:15pm Locos por Juana w/special guest Rocky Dawuni
11:45pm- 1:15pm Boukman Eksperyans
Tickets prices
$15 at the door. $10 presale(brownpapertickets.com)
$5 kids 12 and under
$10 reduced rate for students and seniors( at the door only.)
This event is underwritten by the Miami-Dade Department of Cultural Affairs, the mayor and Board of County Commissioners, Prestige Beer, Kulcha Shok Music, the NEW HOTEL, Urban Resource, 7th Circuit Productions, and other fine sponsors.